Shahid's Smile: How our Partnership is Making a Difference
Meet the first patient to receive surgery at Operation Smile's Durgapur Cleft Center, which was opened in 2019 with support from the Baxter International Foundation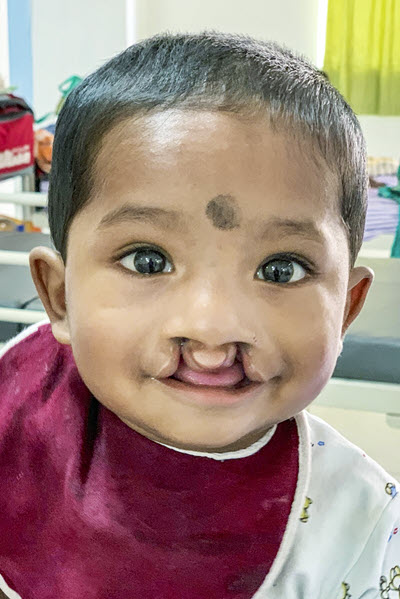 In 2018, young Shahid was born with a cleft lip and cleft palate in West Bengal, India. Unfortunately, Shahid's parents were told at their local hospital that surgery was not possible until he was 15 months old. A common misperception and barrier to surgery, misinformation like this can have profoundly negative effects on a child. In many areas of the world, children born with cleft conditions face social isolation, bullying and serious challenges accessing care when, ideally, patients with cleft conditions are treated in infancy – between the ages of six months and one year – depending on the type and severity of the cleft condition. 
Fortunately, Shahid would soon have an unexpected opportunity to address his cleft condition. One day, a stranger stopped Shahid's mother Shahida in the street and told her that his son had also been born with a cleft lip and received surgery and comprehensive support from Operation Smile. The gentleman gave Shahida Operation Smile's phone number, and Shahid's family was promised an appointment at the new Operation Smile cleft care center in Durgapur—which opened in 2019 with support from the Baxter International Foundation—once Shahid reached the weight requirement for a safe and effective surgery. 
With nutritional guidance from Operation Smile on how to improve Shahid's weight, in March of 2019, he was healthy enough for surgery. Shahida, her mother-in-law and Shahid traveled the eight hours to Durgapur, where, following a comprehensive health evaluation, Shahid became the first patient to receive surgery at the recently inaugurated center. With Operation Smile, this involves much more than the surgery itself; in addition to surgeons, the Durgapur center team includes anesthesiologists, dentists, orthodontists and speech pathologists – plus pediatricians and nurses from its host hospital – who help address patients' comprehensive needs. This support can range from consultations to help patients improve their speech, to sessions that provide parents information on how to support their child's nutritional health. 
Shahida was delighted with Shahid's new smile and when they returned home, Shahid's father cried with happiness. A few months later, Shahid returned to Durgapur for a second operation to repair his cleft palate and, today, is a very active and healthy young boy. 
In 2019, the Baxter International Foundation committed more than $2 million to Operation Smile, one of the world's largest volunteer-based surgical nonprofit organizations, to provide access to comprehensive surgical and cleft care at four clinics in India—a country with a backlog of an estimated 200,000 untreated cleft cases1.