Global Efforts Contribute to Sustainability in Healthcare
Around the world, our teams are taking creative approaches to help protect our planet.  
 
From green logistics to more sustainable product packaging, solar panels and more, here are a few examples of the unique partnerships and initiatives contributing to our overall focus on operational excellence and environmental stewardship across our value chain.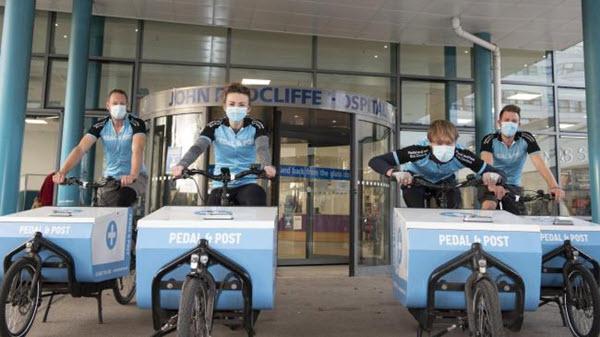 Pedal-Powered Product Delivery
In August 2020, Oxford University Hospitals NHS Foundation Trust (the Trust) received its first delivery of our products by bicycle. Thanks to a new collaboration between the Trust, Baxter and local cycle courier company Pedal and Post, our patient-specific compounded chemotherapy, antibiotics and intravenous nutrition products are being delivered to hospital sites in Oxford, England, by cycle couriers. Motivation for the partnership was two-fold: to expedite product delivery and realise sustainability benefits.  
"We are pleased to have been able to work in partnership to help the Trust on this project, and it is great to see the additional benefits this service has provided," said Rachel Trace, Baxter's UK Country Lead. "We are committed to play a part in helping the NHS meet its carbon emission reduction targets in addition to delivering sustainable healthcare across our organisation." 
The switch from van to cycle delivery eliminates carbon emissions associated with these deliveries – saving up to an estimated 10 tons of carbon emissions (or CO2 equivalent) each year. In the first 10 months of the project, approximately 36,000 products were delivered via bicycle with transport time cut in half.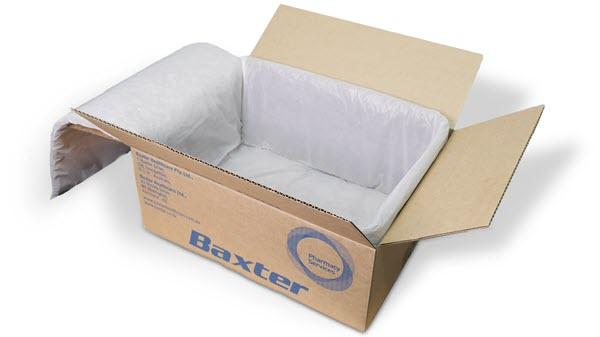 Compounding Flocks to Sustainable Woolpack Technology
In early 2021, our compounding team in Australia and New Zealand (ANZ) introduced a new recyclable wool-based packaging technology to protect our products during customer distribution. 
Made from 100 percent sheep's wool, Woolpack is a sustainable alternative to non-recyclable foil and polystyrene for packaging of compounded products. The new wool-based liner is recyclable and biodegradable and provides extra cushioning for the product as well as protection from heat and moisture.
Sai Sridhar, local compounding service delivery manager, said the rollout of Woolpack is one of the most recent environmentally conscious initiatives Baxter ANZ has introduced and builds on our reputation as a responsible manufacturer. 
"The implementation of Woolpack not only helps further protect and insulate our packaged products, it also demonstrates our company's continued commitment to sourcing new technologies to advance our responsibilities around product stewardship" said Sai. "We're now using Woolpack in all of our sites around Australia and recently expanded to sites in New Zealand as well."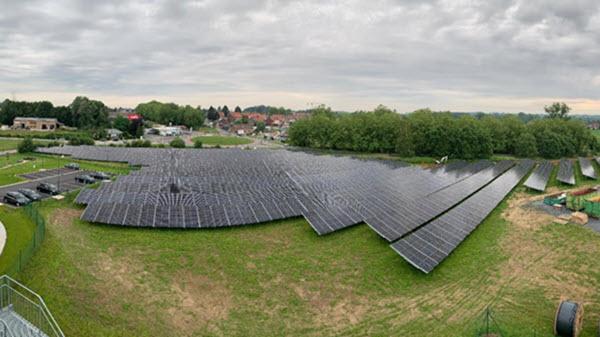 Renewable Energy Fueled by Solar Panels
We are continuously looking for ways to reduce our energy use and associated greenhouse gas emissions. Our manufacturing site in Lessines, Belgium, is on-track to install 3,600 solar panels in the fourth quarter of 2021, which is expected to reduce the CO2 equivalent by almost 290 tons annually. 
"As technology improves, we keep looking at opportunities to do more to benefit the environment and reduce the climate burden from our manufacturing activities. With the successful results from solar panel installations at other sites globally, we decided to take on this project," said Marco Toppino, plant manager at our manufacturing site in Lessines. "This is expected to generate more than 1,270 megawatt hours of carbon neutral electricity, which equals the amount of energy used to supply 400 households during a year." 
Recyling Turns Trash to Treasure 
We work to recapture valuable materials at the end of product life and have introduced several programmes to facilitate recycling for patients and hospitals. For example, in Guatemala we have established a programme in partnership with Central American waste management company Biotrash. Through the programmme, we collect and recycle PVC and other plastics from hospitals and dialysis clinics. As of the end of 2020, 24 facilities were participating in the programme, and Biotrash had recovered 16.5 metric tons of PVC and 2.7 metric tons of polypropylene. Biotrash recycles PVC to make shoe soles and uses recovered polypropylene to manufacture bricks for use in its own facilities. 
Protecting Our Planet
Learn more about our overall focus on operational excellence and environmental stewardship across our value chain.  
Corporate Responsibility
Learn more about our sustainability work and associated corporate responsibility goals